Competition Requirement
The Raffles International Music Competition welcomes participants of all nationalities.


* Age according to the registration deadline as of 1st June 2017.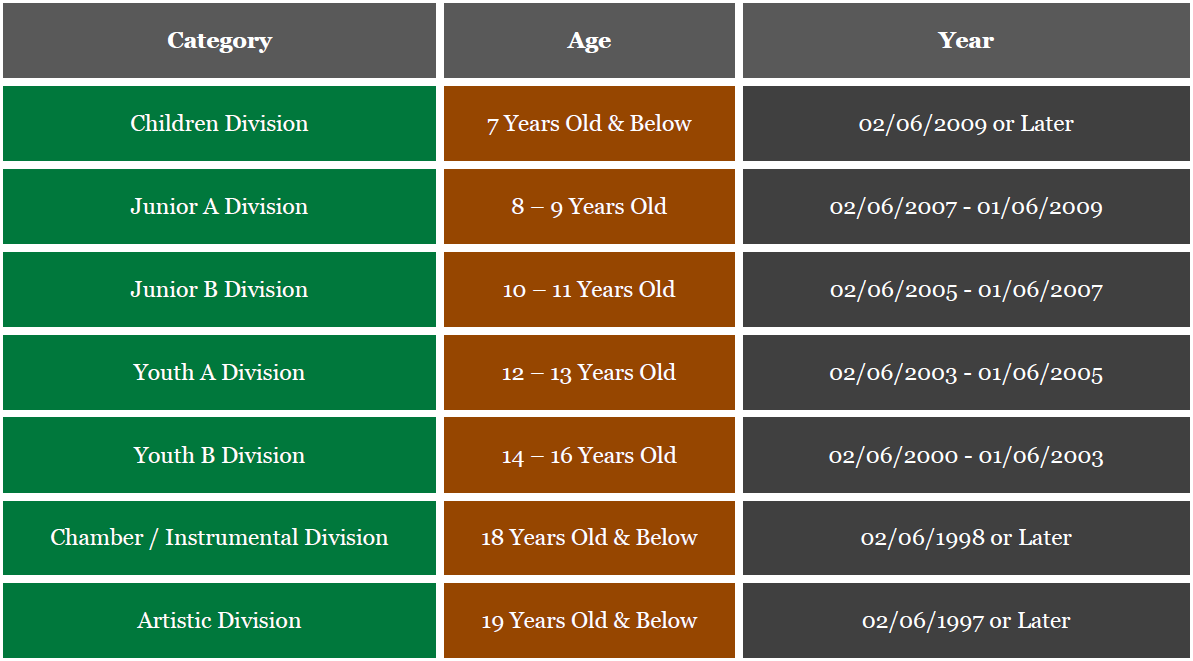 * New Category: Solo Strings – Artistic Division (Open for all nationalities under 19 years old)
* Chamber New Category: Piano 4 Hands Duet (Age 18 & below)
If your chamber group comprises of a different instrument combination from the above, please email us for approval.
Instrumental Ensemble Competition there: You can choose 2 contrasting pieces or one piece with contrast parts.


– Competition full marks is 100.
– Criteria of judging will be based on:
• 30% Tonality and Musicality
• 40% Technique
• 30% Stage Presentation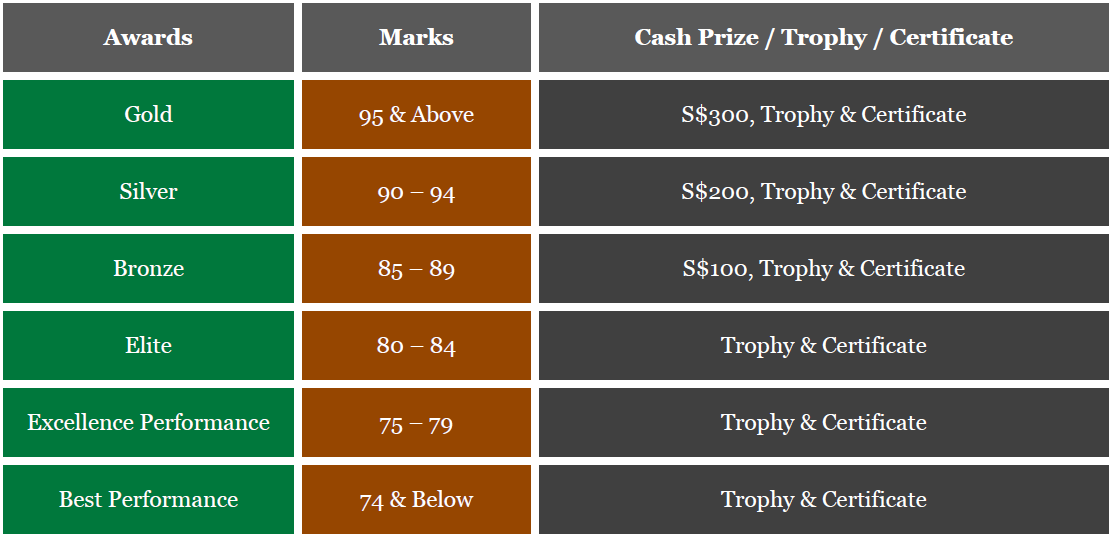 * Solo Category – Cash Prize, Certificate and Trophy
* Chamber/Instrumental Category – Certificate and Trophy
Artistic Division荣誉演奏家组 – Violin Repertory
Participants are required to play the following A and B
(A) First movement of one of the following Concertos:
1. Mozart Violin Concerto No. 3 in G Major, K216
2. Mozart Violin Concerto No. 4 in D Major, K218
3. Mozart Violin Concerto No. 5 in A Major, K219
4. Mendelssohn Violin Concerto in E Minor
5. Beethoven Violin Concerto in D
6. Bruch Violin Concerto in G Minor
7. Wieniawski Violin Concerto No. 2 in D Minor
8. Barber Violin Concerto Opus. 14
(B) Paganini Caprice No. 24
Artistic Division荣誉演奏家组 – Viola Repertory
Participants are required to play the following A and B
(A) First movement of one of the following Concertos:
1. Bartok Concerto for Viola
2. Hindemith Der Schwanendreher
3. Walton Concerto for Viola
(B) Paganini Caprice No. 24
Artistic Division荣誉演奏家组 – Cello Repertory
Participants are required to play the following A and B
(A) First movement of one of the following Concertos:
1. Haydn Cello Concerto in D Major
2. Schumann Cello Concerto in A Minor
3. Dvorak Cello Concerto in B Minor
4. Elgar Cello Concerto in E Minor
(B) Bach Cello Suit No 4: Gigue (without repeat)
Kindly noted there will be only ONE live Competition in this 2017 for Soloist Categories and Chamber&Ensemble Categories.

Musicians of all nationalities worldwide may apply up to three competition divisions.

Finalist from soloist category Preliminary Round will compete in Singapore for the Finals in August 2017.

If applying for more than one division, applicants must complete separate applications and pay the required fee for each individual division.

Piano accompaniment is a required for the Soloist Live competition.

The winners will be invited to participate in Master Class with international jury. They will also be participating in the Closing Ceremony Concert on 5th August 2017 (Sota Concert Hall).

All applicants may apply in categories where they are under the minimum age limit, provided they meet the entry level and requirements.

Contestants must have their pieces memorized with the exception of the required Sonata works and Chamber music. Accompanists are exempt.

The order of performances will be determined by the organizers.

All the submitted video with application must be unedited. Contestants can submit the video via YouTube URL or mail DVD for application.

Contestant agree and understand that competition committee have right to use all the submitted material including photos, recordings, videos or any uploaded information in any situation.

The committee reserves the right to reschedule the competition in the case of a natural emergency.

The jury is permitted to award the same ranking to several contestants. In the event of a tie, the jury may divide the monetary prize equally between the prizewinners.

All winners must collect their awards in person.

The jury retains the right to stop any performance without objection from the contestants.

The Competition Committee reserve the right to cancel any competition category should the total participants are less than 10 pax (For Solo Division). Registration fee would be refunded.

Unauthorized photography, audio, and/or video recordings are strictly prohibited. The committee reserves the sole right to record and document the competition. The committee also has the right to release any recordings (such as DVDs, CDs, etc.) for publicity or commercial purposes without seeking further approval from the contestants or making payments of any kind to them. The contestants agree that all copyrights of these recordings belong to the Competition Committee.

Contestants must take appropriate actions to ensure the safety of their musical instruments, bows, and personal belongings (such as luggage, personal effects, money, and musical accessories).

The committee reserves the right to make changes to the rules and regulations, and all supporting materials relating to the competition at any time without further notice.