Screening Round
For Solo Division Competitions:
Please submit by 1st June 2017 a video recording of one piece of your performance.
The video recording need not be the selected competition piece, and can be a recent recording of not more than 6 months old.
Submissions can be by email or YouTube link to the Festival Committee.
Repertoire & Duration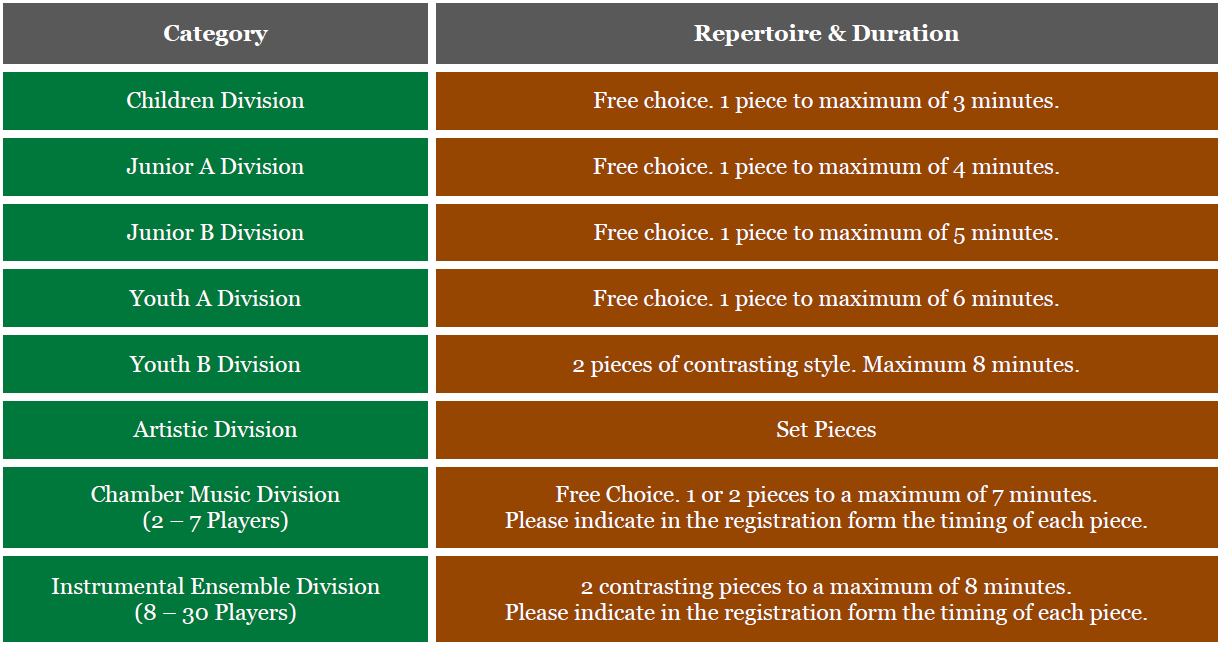 * Please click HERE for more details.
* The piece should fit within the required duration. It is permissible to leave out repeats and it is also acceptable to make cuts as long as they are not to the detriment of the music.
* The adjudicators reserve the right to select sections of the piece to listen, or to stop a performance if it exceed the time limit.
Solo Final Competition
Solo Final Competition will be held on 4th- 5th August in Singapore (Arts House).
Participants are required to arrange their own accompanists. (if you require, we can recommend you our official accompanist)
Chamber Music & Instrumental Ensemble
It is not required to send in a performance video with your registration. There is only one live round for Chamber Music Competition.
Division & Age Limit
Competing members cannot exceed the indicated age limit of each category as of 1st June 2017.
Submit Online Registration
1. Completed online Registration Form
2. Picture of individual or Ensemble Group
3. Screening Round Recording (For Solo Division Competition only)
4. Registration Fee
* Please state participant name on the payment slip.
* Email a copy of payment slip to info@rafflesarts.com when it's done.
Competition Result
Result of screening round will be announced in mid June.
Award Ceremony/Gala Concert
Winners must be represented at the Award Ceremony on 5th August 2017 to receive certificate and award. 
One representative of the Ensemble can collect on the group's behalf.
Gala Concert Venue:  Sota Concert Hall