RAFFLES ARTS ACADEMY MASTERCLASS SERIES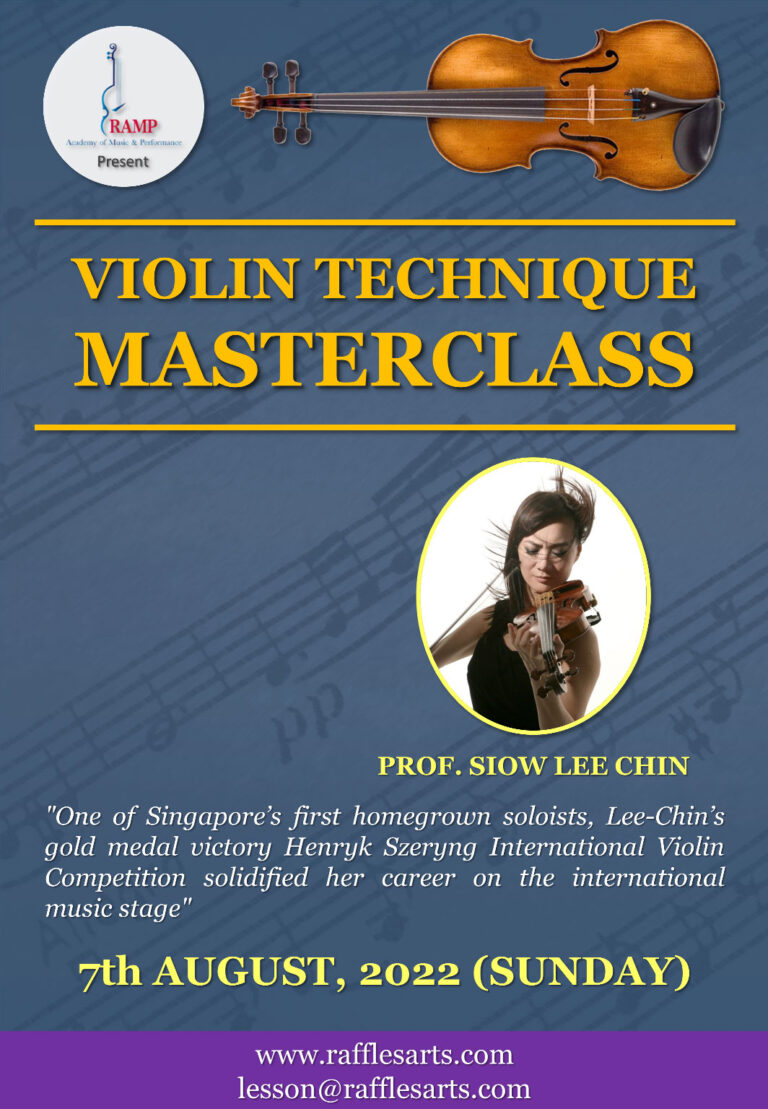 RAMP Violin Academy Singapore Present
Join us for Violin Masterclass conducted by Prof. Siow Lee Chin.
One of Singapore's first homegrown soloists, Lee-Chin's gold medal victory Henryk Szeryng International Violin Competition solidified her career on the international music stage.
Date: 7 August 2022 (Sunday)
Venue: RAMP Academy Hall, 73 Ubi Road 1, #10-63.
RAMP VIOLINIST @ THE ESPLANADE
RAMP Violin Academy Singapore Present
This April, We are celebrating our Youth! To celebrate the Esplanade Youth Music Festival, our RAMP Violinists will be performing at Esplanade Concourse on 7 April 2022.
Join us for an enthralling performance by the talented young violinists of RAMP Academy! The Violinists will present a varied program of show pieces, ranging from classical tunes such as the theme of Paganini's Caprice No 24 and Bach's Double Violin Concerto, to exciting pieces like Piazzolla Nightclub 1960 from History of Tango and Brazilian piece Tico Tico.
𝐉𝐨𝐢𝐧 𝐔𝐬 , 𝐢𝐧 𝐜𝐞𝐥𝐞𝐛𝐫𝐚𝐭𝐢𝐧𝐠 𝐨𝐮𝐫 𝐲𝐨𝐮𝐭𝐡! 𝐒𝐞𝐞 𝐲𝐨𝐮 𝐭𝐡𝐞𝐫𝐞!
𝐃𝐚𝐭𝐞: 𝟳 𝗔𝗽𝗿𝗶𝗹 𝟮𝟬𝟮𝟮 (𝗧𝗵𝘂𝗿𝘀𝗱𝗮𝘆)
𝐓𝐢𝐦𝐞: 𝟳:𝟬𝟬𝗽𝗺 & 𝟴:𝟬𝟬𝗽𝗺
𝐕𝐞𝐧𝐮𝐞: 𝐄𝐬𝐩𝐥𝐚𝐧𝐚𝐝𝐞 𝐂𝐨𝐧𝐜𝐨𝐮𝐫𝐬𝐞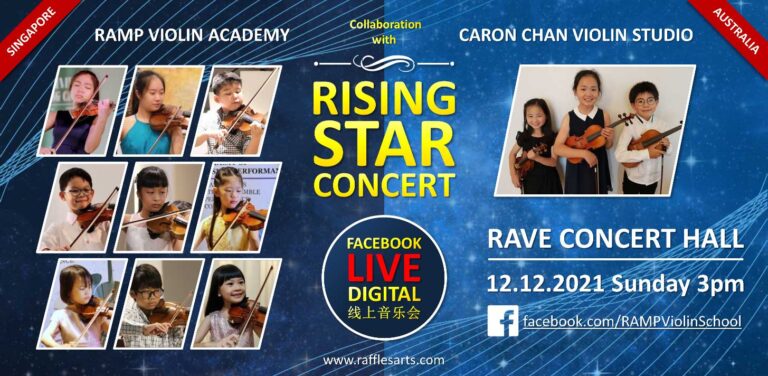 Date: 12 December 2021
Time: 3:00pm (SGT)
Venue: Facebook Live
RAMP Violin Academy Singapore Present
We are pleased to announce our RAMP Academy year-end Rising Star Concert which will be Live stream on FACEBOOK!
This year we are very happy to collaborate with Ms Caron Chan Violin Studio from Sydney. Ms Chan is the Chief Strings Examiner for the AMEB and a respected pedagogue and formerly Sydney Conservatorium of Music.
Together with RAMP director Ms Cindy Yan, Look forward to an exciting concert which will include Rising Star prize winners from RAMP Violin Academy and Caron Violin studio. The repertoire will start with Vivaldi favorite Concertos and movements from "Four Seasons" and Piazzolla Tangos to Mendelssohn's Concerto.
You will not want to miss our talented young musicians this holiday season!!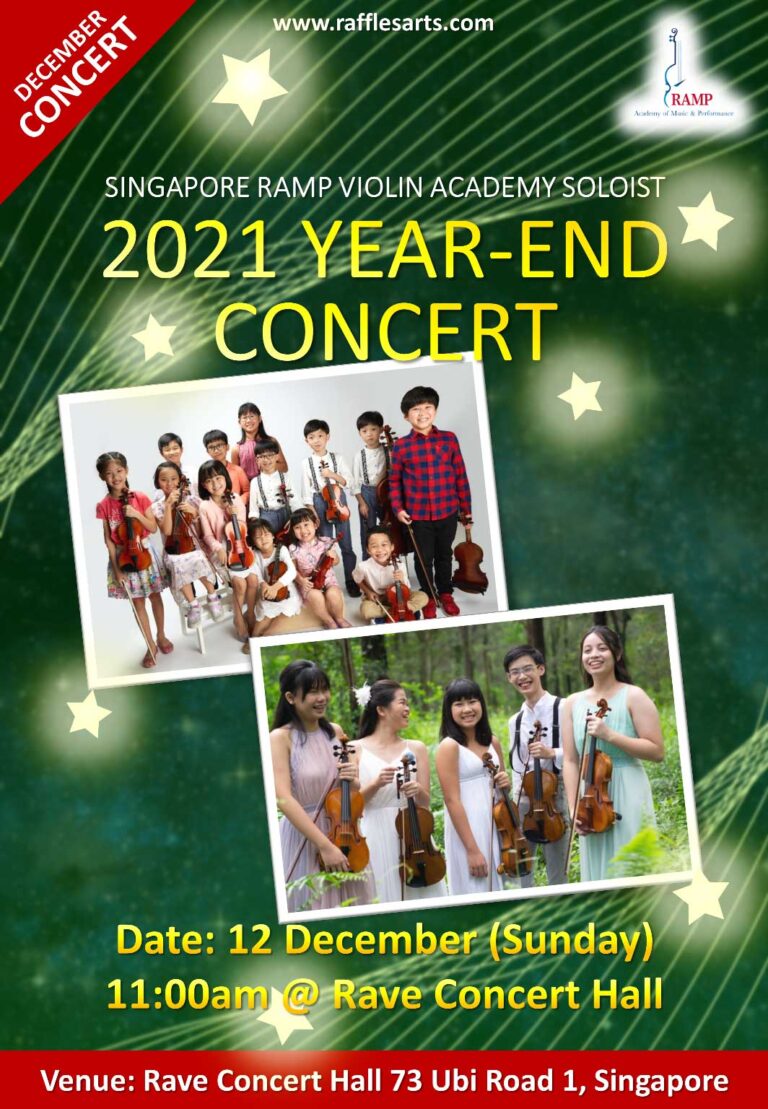 RAMP Violin Academy Singapore Present
December is coming! 🌟 Let's celebrate with our young violinists by making great music together.
RAMP Academy Violinists will perform in a Live Stream Concert on 12th December 2021. Music will include Vivaldi Concerto, Beethoven Sonata, from Junior pieces to Diploma level performance!
Join us this Sunday To enjoy this music concert! We hope the concert will bring Joy to your family! 🌹
Date: 12 December 2021
Time: 11:00am – 12:30pm
Venue: Rave Concert Hall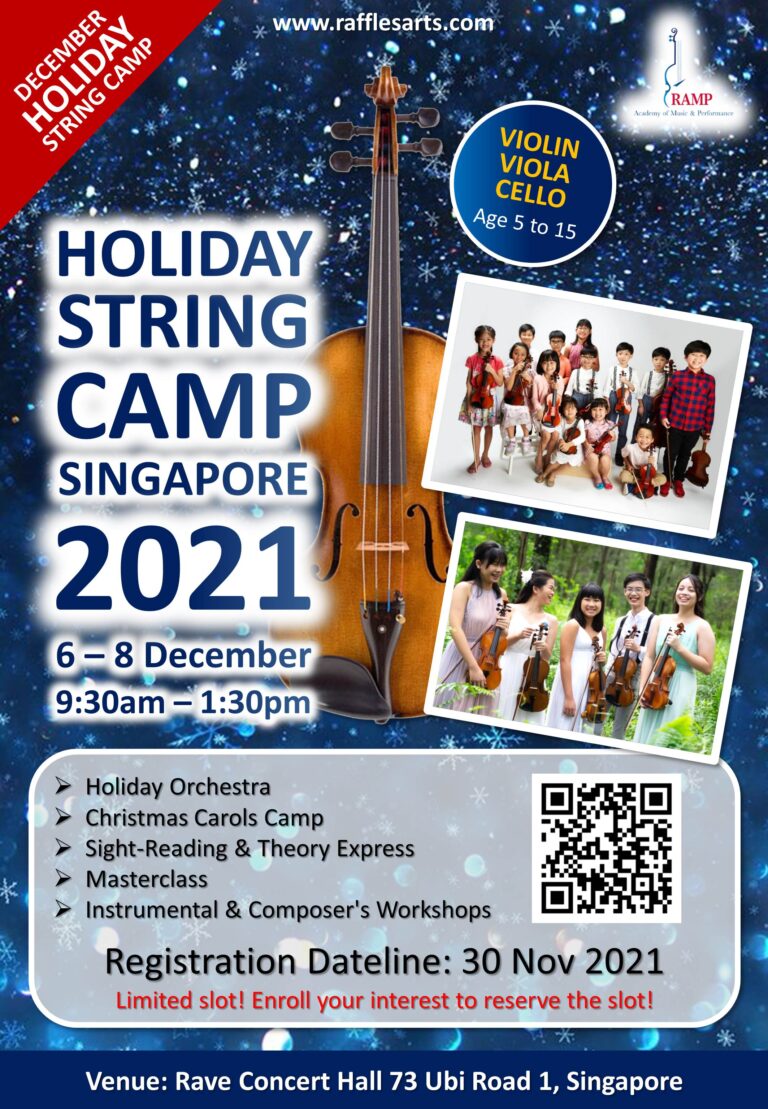 RAMP Violin Academy Singapore Present
School's out and it's time for holiday Camp! This December, RAMP Academy Faculty of professional musicians will lead 3 fun-filled days of music making in Singapore for Violinist, Violist and Cellists!
This camp is a great opportunity to focus on honing your musical talents. Exciting programs to look forward to include string ensemble training in different styles of music, having fun with Christmas Carols, sight reading improvement workshops, learn more about our classical composers like Mozart and Beethoven, and much more.
Join us, in celebrating our youth! See you there!
Date: 6 – 8 December 2021
Time: 9:30am – 1:30pm
Venue: Rave Concert Hall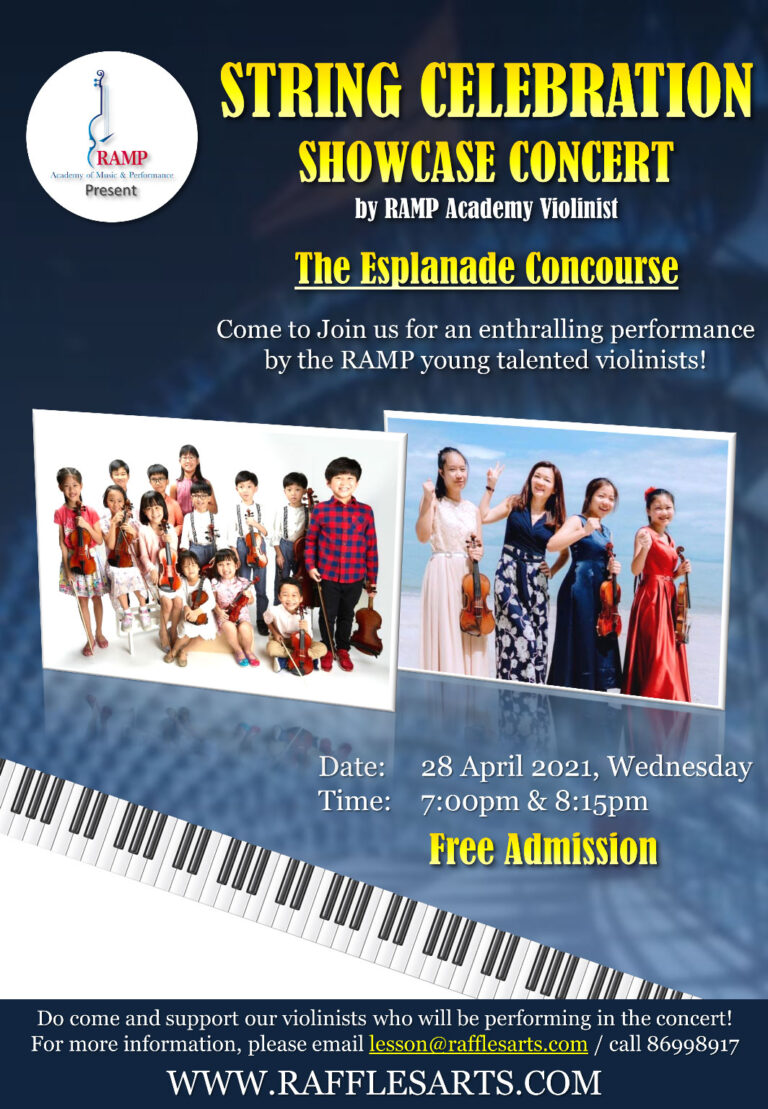 STRING CELEBRATION SHOWCASE CONCERT
RAMP Violin Academy Singapore Present
This April, we are celebrating our youth! To celebrate Singapore Youth Festival, our RAMP Violinists will be performing at Esplanade's In Youthful Company.
RAMP Violin Ensemble presents a programme that will include famous classical tunes such as Bach's Double Violin Concerto and Winter from Vivaldi's Four Seasons. Also look forward to an enchanting special item with an all-boys ensemble, presenting Paganini's The Boy, Romanian Folk Dances and other fun string ensemble pieces.
Join us, in celebrating our youth! See you there!
Date: 28th April 2021 (Wednesday)
Time: 7:00pm & 8.15pm
Venue: Esplanade Concourse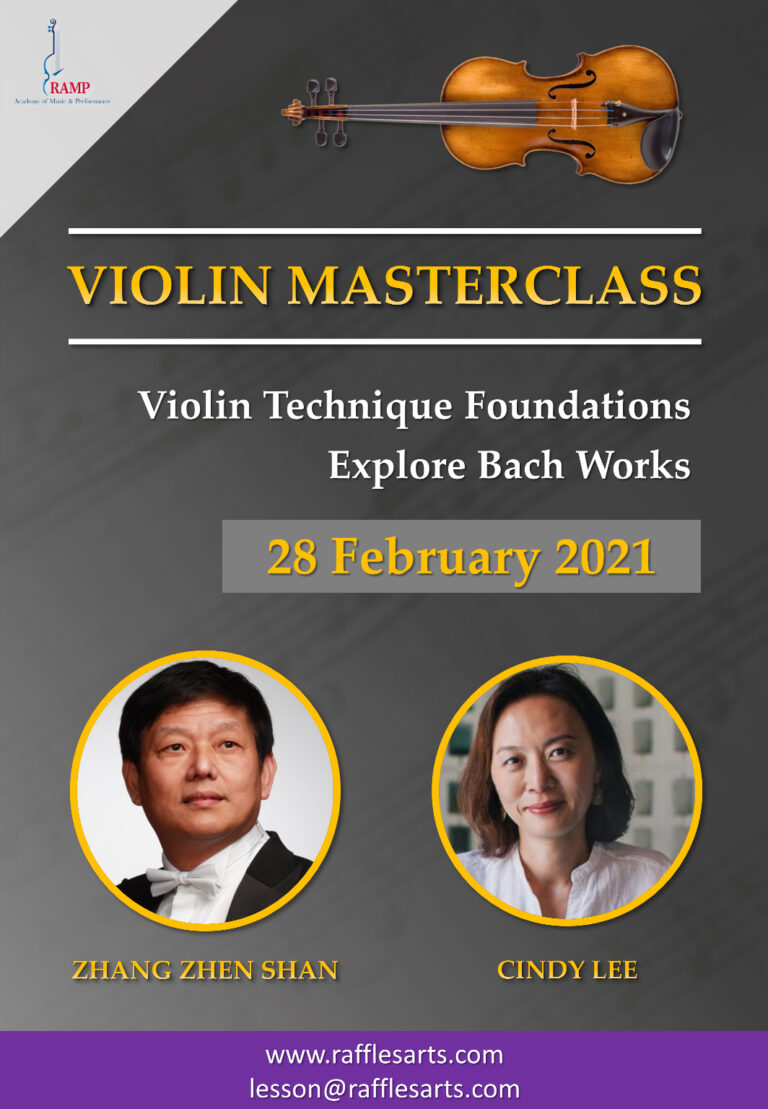 Violin Techique Foundations! Explore Bach Works!
RAMP Violin Academy Singapore Present
Join us for upcoming technique Masterclass conducted by Mr. Zhang Zhen Shan and Ms. Cindy Lee.
Having a good foundation is essential to achieve a complete musical education. Join the Technique Masterclass, you will gain an-indepth understanding of violin technique tips.
Date: 28 February 2021 (Sunday)
Venue: RAMP Academy Hall, 73 Ubi Road 1, #10-63.
[Let's Art Online Selections] 
You are invited to Pluck's Joyous Concert!
Join Pluck and her friends from distant lands to celebrate Christmas at her home. As her friends arrive one-by-one with musical gifts presented on harps and violins, Pluck's Christmas Party is going to be the most enchanting celebration this Christmas!
Catch Pluck's Joyous Concert by Rave Harpers and Raffles Arts Academy of Music & Performance (RAMP) Violinists!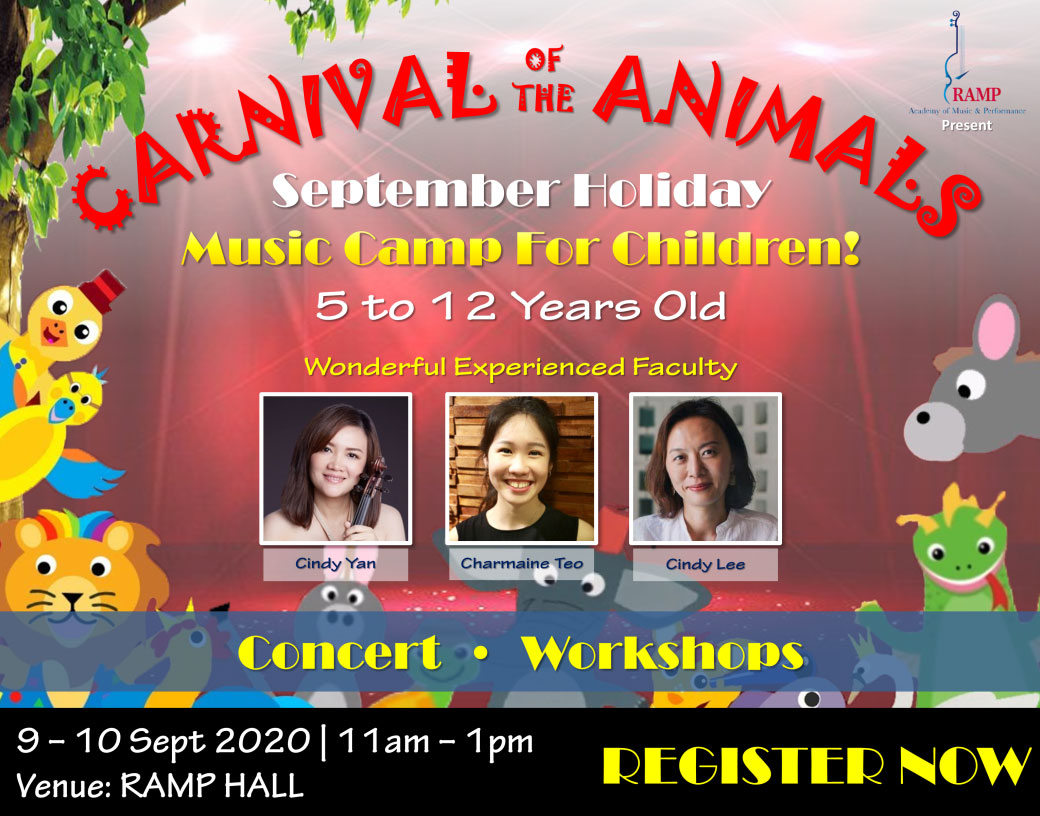 Date: 9 – 10 September 2020
Time: 11:00am – 1:00pm
Age: 5 – 12 Years Old
SEPTEMBER HOLIDAY CAMP – LEARN . CREATE. ENJOY
Wednesday - Thursday, 9 - 10 September 2020, 11:00am – 1:00pm
CARNIVAL OF THE ANIMALS
Music Camp
A famous & humorous musical suite by the great 19th century French composer Camille Saint-Saëns
Come and experience a classical music event like nothing you've ever experienced before!
Have a Fun Music Learning Journey with the famous Saint- Saens "Carnival of the Animals" Suite. Conducted by SSO violinist Cindy Lee and RAMP Director Ms Cindy Yan, be enchanted in this session which unfolds music elements to young children in a fun way! It will be a fun-filled and adventurous time of animals, art and live music!
* This education program has been successfully conducted educational concert at Victoria Recital Hall, presented by SSO.
The 2 days Camp is filled with creative and interactive activities to help students discover a more in-depth study of this famous piece. Students will gain insight into the music language, learn rhythms patterns, music forms, enhance aural skills and deepen their understanding of music.
If you are looking for an exceptional and enjoyable music camp for your child, contact us today to sign up. Limited space! Book your slot now!
First-come-first-served.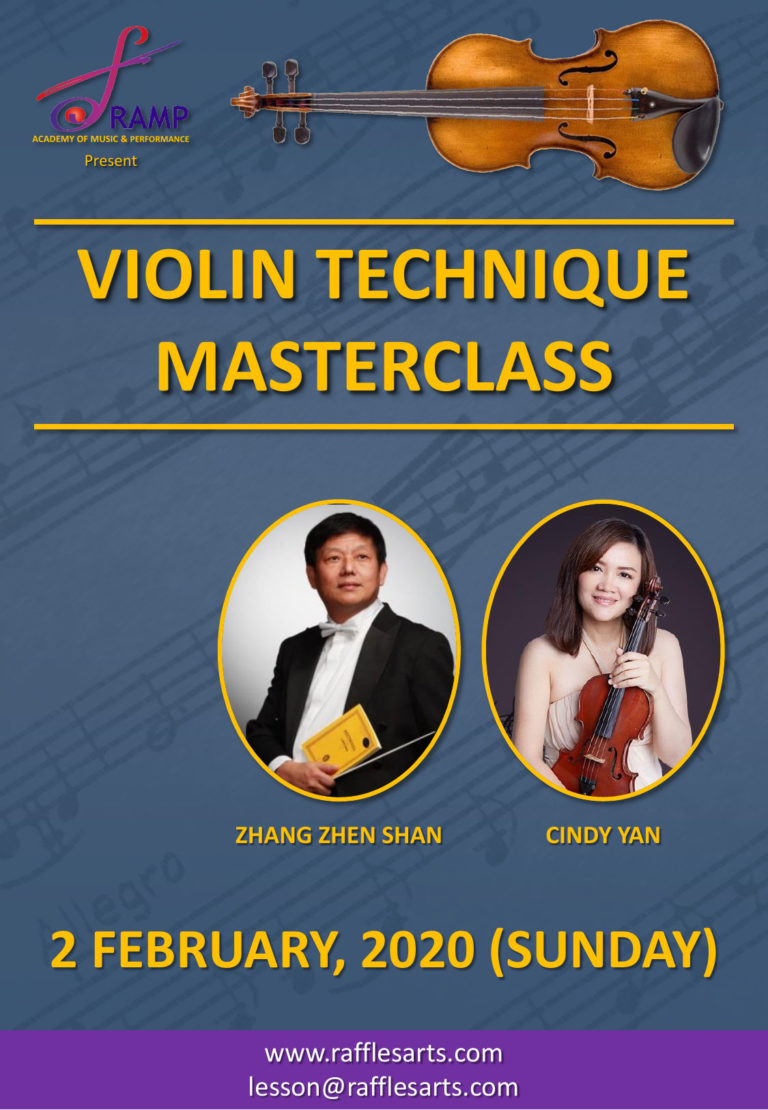 VIOLIN TECHNIQUE MASTERCLASS
Join us for upcoming technique Masterclass conducted by Mr. Zhang Zhen Shan and Ms. Cindy Yan.
Having a good foundation is essential to achieve a complete musical education. Join the Technique Masterclass, you will gain an-indepth understanding of violin technique tips.
Date: 2 February 2020 (Sunday)
Time: 12pm – 3pm
Venue: RAMP Academy Hall  73 Ubi Road 1, #10-63.
4 Days Music Appreciation Class
Mrs Ana studied piano in England, She received her first degree in Piano performance from the University of Belgrade and her second music degree (BA and MA) from the University of Cambridge, King's College. Mrs Ana performed as a soloist and chamber musician at venues such as The Royal Albert Hall, The SouthBank Centre and The Fairfield Halls in the UK, as well as concerts in the U.S.
Join Mrs Ana for an exciting music journey in 4 sessions to discover the fun, beauty and mysterious world of music. Let your children discover the Voice of their instruments.
Junior Group (6 – 11 years old):
Join us for 3 fun sessions where we introduce the instruments of the orchestra, and their different sounds, in the context of programmatic music to allow the children to visualize images and create narratives for what they hear. These sessions will prepare for, and culminate in, attendance of a concert of programmatic chamber music, including selections from Saint-Saens' Carnival of the Animals. Bring along your imagination and come ready to explore!
Senior Group (12 – 18 years old):
This special course design for more advanced students. To celebration of the 250th anniversary of Beethoven's birth the course will introduce the classical period, focusing on Beethoven's life, legacy and musical features. Students will be introduced to sonata form, reading an orchestral score, and participate in playing Beethoven's Romance in F major. The 3 sessions will culminate in attendance of Midori's performance of Beethoven's violin concerto and the two romances.
Jonathan Ong (Violin)
Dorothy Ro (Violin)
Abigail Rojansky (Viola)
Jonathan Dormand (Cello)
Hailed by The New York Times as an "outstanding ensemble," the Verona Quartet is dedicated to conveying the poetic narrative of storytelling through the art of the string quartet. The Quartet's members represent four different nations (the United States, United Kingdom, Singapore, and Canada), but their singular approach and unanimity of purpose in both musical and cultural cooperation has quickly earned the group a reputation for its "interpretive strength . . . robust characterization [and] commanding resonance" (Calgary Herald).
Strongly committed to education, the Quartet has been on the faculty of the Indiana University Summer String Academy since 2016. Past residencies include the Caramoor Center for Music and the Arts, Beethoven-Haus, Oberlin Conservatory of Music, New York University Abu Dhabi (UAE), and Lunenberg Academy of Music Performance (Canada).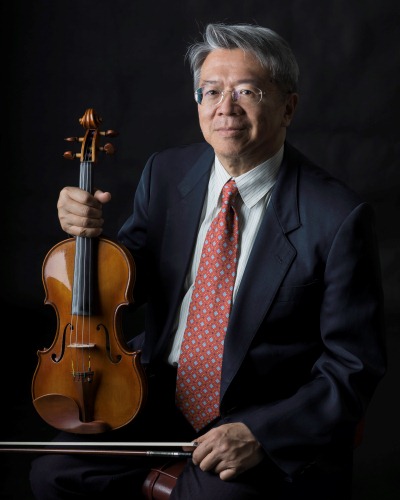 Masterclass with Professor. Min-Yen Chien
One of the foremost and the first generation of Taiwanese international violinists, Professor Min-Yen Chien's violin masterclass will be held during both sessions in April 2020.
Professor Chien is teaching in Taipei National University of the Art. He regularly performs on solo and chamber music concert at TNUA and the National Concert Hall in Taipei; he was twice invited to play for the Presidential Concert. Min Yen Chien has trained many young and talented violin students helping them secure success in their future careers.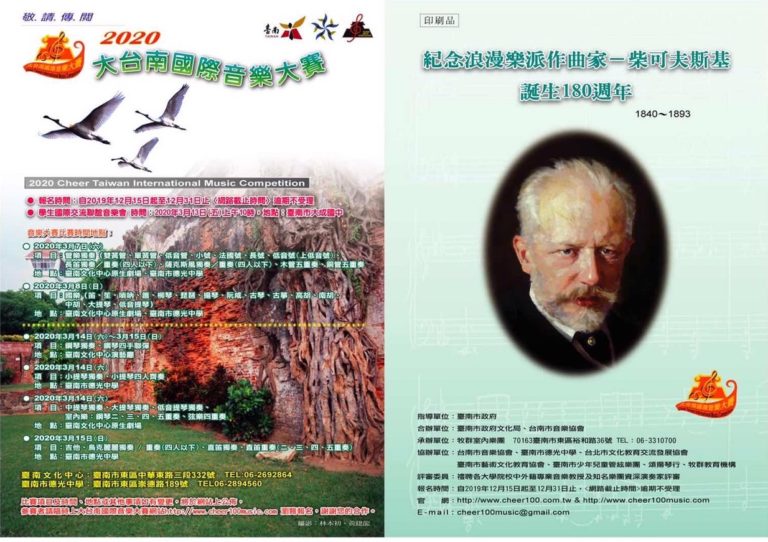 Cheer Taiwan International Music Competition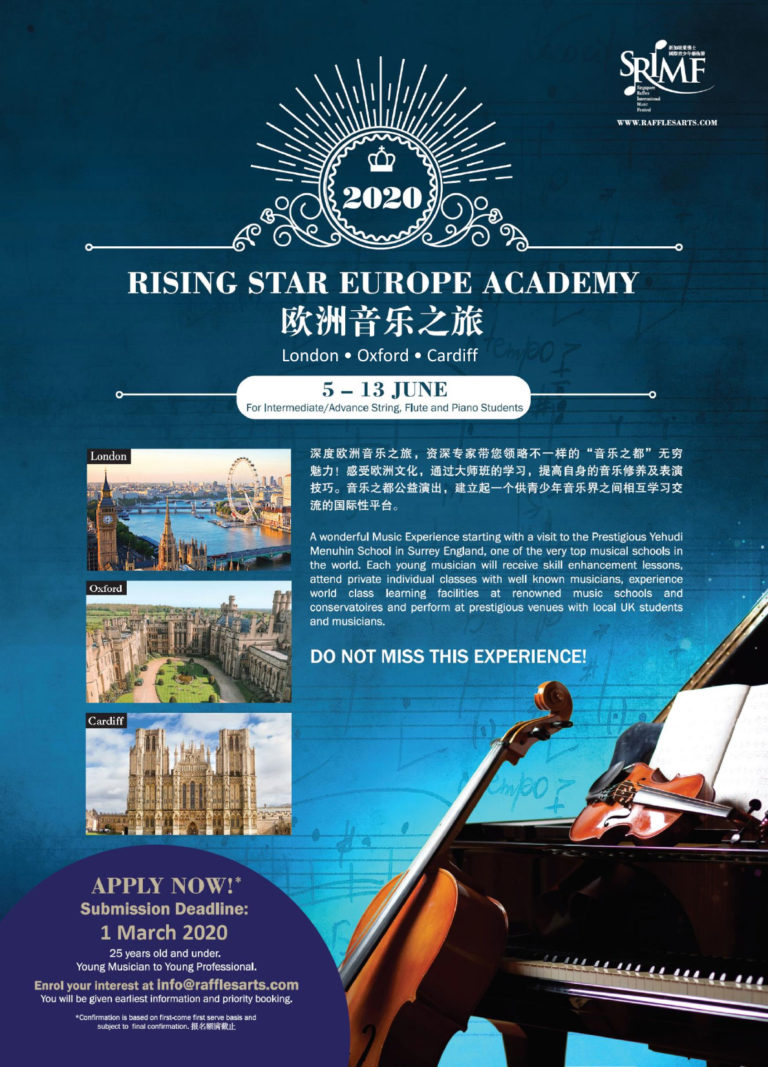 SRIMF Rising Star Europe Academy
A wonderful platform for young musicians to shine and immerse in Europe where Classical Music was born. Young musicians and young professionals can look forward to a festival of concerts, competition and masterclasses. In addition, experience first hand the culture and music life of several generations of great musicians in a city which will inspire and propel your music career.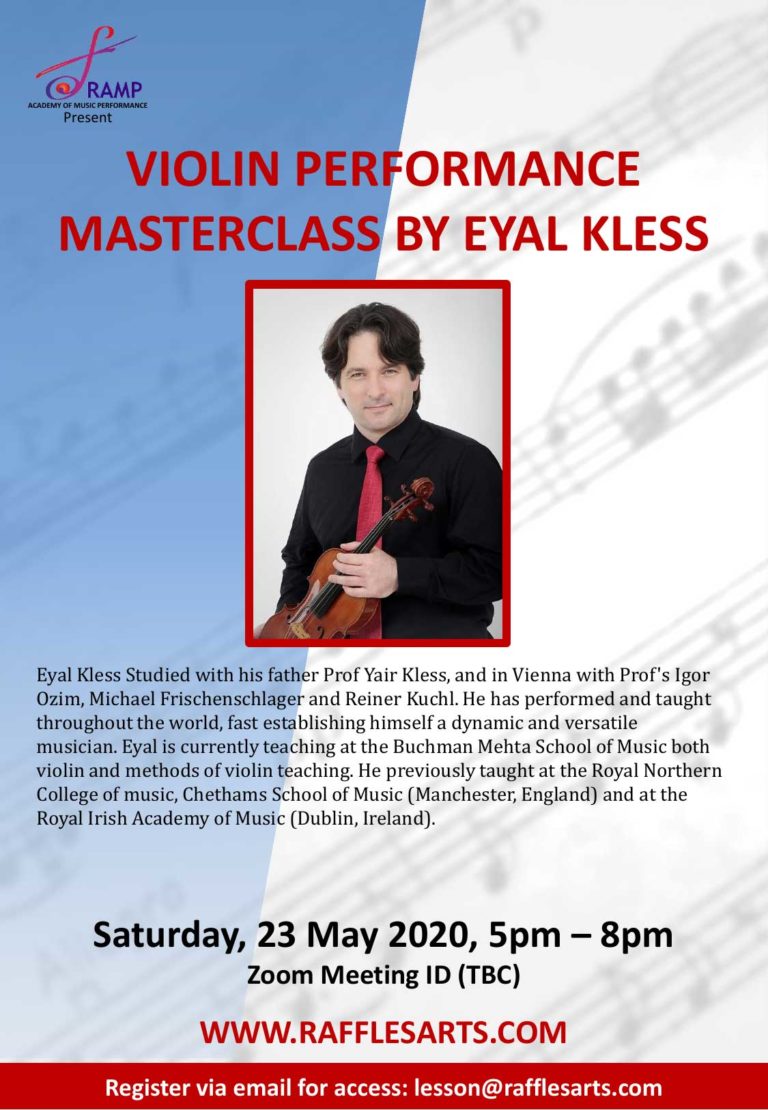 Violin Performance Masterclass By Eyal Kless
Saturday, 23 May 2020, 5pm – 8pm
Eyal Kless Studied with his father Prof Yair Kless, and in Vienna with Prof's Igor Ozim, Michael Frischenschlager and Reiner Kuchl. He has performed and taught throughout the world, fast establishing himself a dynamic and versatile musician. Eyal is currently teaching at the Buchman Mehta School of Music both violin and methods of violin teaching. He previously taught at the Royal Northern College of music, Chethams School of Music (Manchester, England) and at the Royal Irish Academy of Music (Dublin, Ireland).​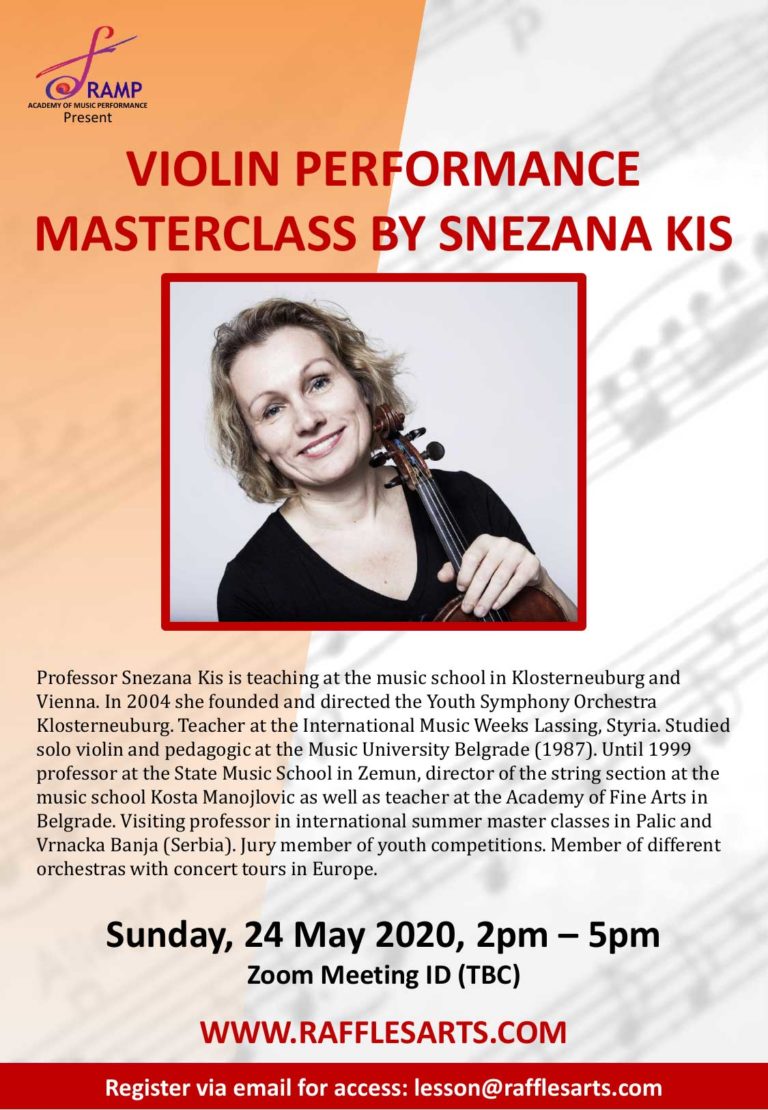 Violin Performance Masterclass By Snezana Kis
Sunday, 24 May 2020, 2pm – 5pm
Snezana Kis is teaching at the music school in Klosterneuburg and Vienna. In 2004 she founded and directed the Youth Symphony Orchestra Klosterneuburg. Teacher at the International Music Weeks Lassing, Styria. Studied solo violin and pedagogic at the Music University Belgrade (1987). Until 1999 professor at the State Music School in Zemun, director of the string section at the music school Kosta Manojlovic as well as teacher at the Academy of Fine Arts in Belgrade. Visiting professor in international summer master classes in Palic and Vrnacka Banja (Serbia). Jury member of youth competitions. Member of different orchestras with concert tours in Europe.